Blue Friday, Blue is the new Black!
25 Nov 2022 @ 9:00am - 26 Nov 2022 @ 6:00pm, Palazzo Zorzi, Rio de S. Severo, Venice, Metropolitan City of Venice, Italy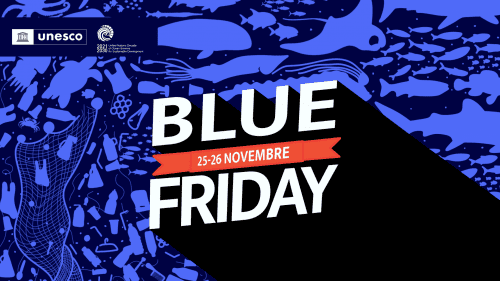 Blue is the new Black! This weekend (25-26 November) we are organizing a two days event in Venice to propose new ways of consuming. The initiative aims to turn the Black Friday into Blue Friday 🌊
The event will be organized by IOC-UNESCO and partners, is possible to participate in panels, workshops and walk tours in Venice among the Venice ateliers that have joined the initiative.
The Blue Friday also brings cultural events: the presentation of the book "As Whales in a Bottle"* presented by the author Giacomo Talignani and the theater show by Alessandro Vagnoli, 'The history of the sea'.
The youngest are welcome to participate in the Young Blue Minds, a round table that will allow 15 brilliant minds to participate in the Possea Laboratory with Marta Musso, marine biologist and winner of the Donna di Mare 2022 award.
Know more at https://decenniodelmare.it/eventi/blue-friday/
#Blue Friday #OceanDecade
*Original title: "Come balene in Botiglia"