IOC-UNESCO Ocean Literacy Training for Architects, Urban, Marine Planners, and Designers
15 Mar 2023 @ 12:00am - 29 Mar 2023 @ 11:00pm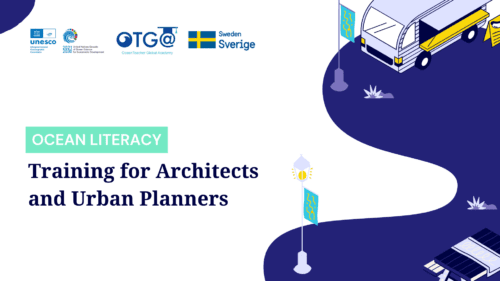 Are you an Architect, Urban Planner or Designer and want to explore how the ocean can unlock your creative potential?
🌊The call for applications for the IOC-UNESCO online Ocean Literacy Training hosted in Ocean Teacher Global Academy dedicated to Architects, Designers and Urban Planners is now open! 
Apply now – the deadline is 6th March and successful candidates will be notified by 8th March! 
Unleash your inner explorer! Learn more about how our oceans are connected to us and how this knowledge can help you become a better professional. Reap the rewards of being ahead of the game by having a deeper understanding of how the ocean can impact your work.
📐🏛 This course will provide architects, designers, and urban and marine planners with an overview of how the ocean works and how to take it into account when planning and designing. Drawing from the experience of leading professionals in these sectors, you will learn through different examples how the ocean can be integrated into your projects at various scales:
– from the design of a small product and the lifecycle of materials
– the design of buildings, infrastructure, and urban systems that interact with the overall planning of our cities, waterways, and the ocean
– blue inspiration 🌊 that can help architects, planners, and designers enhance their creations by observing the natural patterns of the ocean or by using innovative materials such as seaweed
🛠You will come out of this training knowing various tools and approaches that will enable you to deal with the complexity of the ocean and guide you in your decision-making process.
The course is free and will be held from 15 – 29 March 2023 with two Webinars taking place on 16th March and 29th March at 15 CET!
Join now and start your journey toward a brighter future with a deeper understanding of the ocean! Apply now and unlock the secrets of the blue by the link https://oceanexpert.org/event/3841#overview  
This project was made possible due to the support of the Government of Sweden.