Mission: Protect our oceans – exhibit launch and winners announcement!
8 Jun 2021 @ 1:30pm - 2:30pm, 350 Albert Street, Ottawa, ON, Canada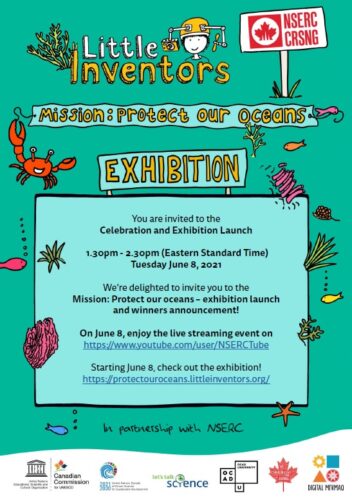 Coinciding with World Oceans Day celebrations and the High-Level Launch of the Ocean Decade during the First international Ocean Decade Conference, NSERC, CCUNESCO and Little Inventors will host a virtual event on June 8, 2021. During this event, we will launch the Little Inventors – Mission: Protect our oceans online exhibit and we will announce the winners of the Little Inventors oceans challenge. Tune in on June 8 at 1:30 PM (EST) to enjoy the live streaming event.
Little Inventors inspires students to think up and draw original, ingenious, funny or fantastical invention ideas. Then, those youth inventors are matched with skilled makers (engineers, designers, artists) to help turn their invention ideas into real objects. On June 8, we invite you to check out the virtual exhibit, which features all the fabulous inventions that can help protect and improve our oceans' health!
The oceans challenge is presented in partnership with the Canadian Commission for UNESCO and implemented and delivered in collaboration with Let's Talk Science, Digital Mi'kmaq, and the Canadian Science Fair Journal. The more than 700 invention ideas received during the challenge are inspired by the UN Decade of Ocean Science for Sustainable Development (2021-2030).
Date: June 8, 2021, from 1:30PM EST to 2:30PM
Live Streaming: https://www.youtube.com/user/NSERCTube
Exhibit Link: https://protectouroceans.littleinventors.org/