Training for policy-makers on Blue Curriculum | Ocean Dialogues | UN Ocean Conference
1 Jul 2022 @ 10:00am - 1:00pm, Ciência Viva - Agência Nacional Para a Cultura Científica e Tecnológica, Lisbon, Portugal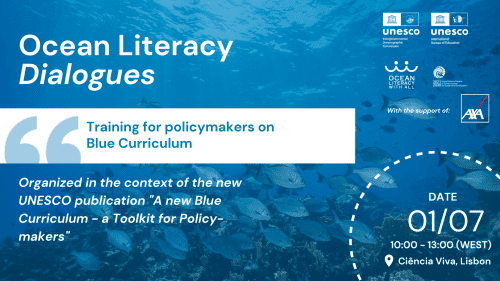 Calling all educational experts and curriculum authorities to the Blue Curriculum training session!
🗓 Lisbon, 1st July
📍Pavilhão do Conhecimento, Ciência Viva Library
⏰ from 10:00 am to 13:00 am (WEST)
🟩 Green Zone
This 3 hours workshop will be composed of interactive sessions that will provide training, information, and tools for educational authorities, policy-makers, and curriculum developers on how to include Ocean Literacy in the national curriculum frameworks and educational policies around the world. Organized in collaboration with the International Bureau of Education (IBE-UNESCO) and supported by AXA XL.
This workshop is limited to a maximum of 25 participants.
➡️ Apply now!  https://docs.google.com/forms/d/e/1FAIpQLSfK4OVFZHIcctS0AVIYY1PY1EXYUOaeQvIevsaeKQ65SNQ1ZA/viewform?usp=pp_url
#BlueCurriculum #Curriculum #IOCUnesco #IBEUnesco #OceanLiteracy