Workshop on Science Communication and Blue Storytelling | Ocean Dialogues | UN Ocean Conference
28 Jun 2022 @ 10:00am - 1:00pm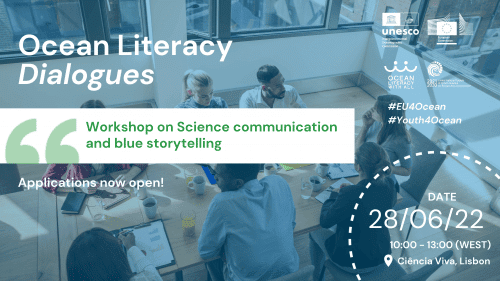 Are you interested in Science Communication?
Calling all youth from 18 to 30 years old to participate in the Workshop on Science communication and blue storytelling!
Workshop on Science Communication and Blue Storytelling!
This 3 hours workshop will be an immersive and interactive workshop that will provide information, skills, and ready-to-use tools for youth from EU4Ocean, Early Career Ocean Professionals (ECOPs), and other networks to better develop key messages and use storytelling when promoting narratives about the ocean.
Organized in collaboration with EU4Ocean and UN Decade Advisory Group.
🗓 Lisbon, 28th June
📍Pavilhão do Conhecimento, Ciência Viva Library, Lisbon
⏰ from 10:00 am to 13:00 pm (WEST)
🟩 Green Zone | Target group: Youth.
This workshop is limited to a maximum of 30 participants from all over the world. Interested participants may register via the link below:
➡️ Apply now!
https://docs.google.com/forms/d/e/1FAIpQLSd9N5p3cAZ6kkfNVQjwdXP22JE8-tuoKuab1HVJQMSrel1sOQ/viewform?usp=pp_url