Workshop "The Cities We Need for the Ocean We Want" all'European Maritime Day 2022
20 May 2022 @ 1:00pm - 2:00pm, Ravenna, Province of Ravenna, Italy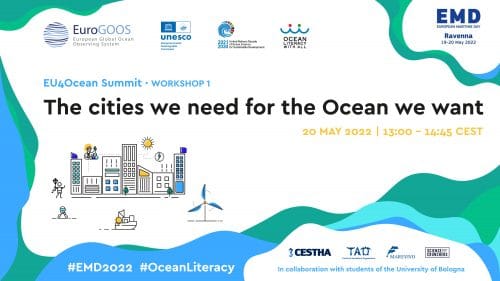 The European Maritime Day 2022 (EMD2022) will be held in Ravenna on 19-20 May 2022 with the theme "Sustainable blue economy for green recovery". On this occasion, IOC-UNESCO, in collaboration with EuroGOOS, in the context of the UN Decade of Ocean Science for Sustainable Development (2021-2030), proposes the Workshop "The cities we need for the ocean we want" –  dedicated to all cities that aim to become Blue Cities.
The workshop will be held on May 20th at the facility Pala de Andrè in Ravenna from 13.00 to 14.45 (Central European Summer Time – CEST). The activity can be followed online or in person after registering at the official website of the European Maritime Day 2022.
The workshop will discuss Ocean Literacy as a tool for connecting ocean sciences with cities and communities in coastal or landlocked European regions. During the Workshop, industry professionals, city / marine planners, oceanographers, city authorities, and the next generation of marine professionals will be involved in discussions and interactive activities aimed at investigating how to make our cities blue and raising citizens' awareness about the ocean.
The event will connect science with the public in a tangible way to co-design tools and solutions for the "cities we need" for "the ocean we want".
The students of the University of Bologna (Ravenna campus), the authorities of various European and other worldwide cities, and the representatives of organizations active in the sector will share their ideas and their commitment to protecting the ocean.
Finally, the public will be invited to follow the United Nations Decade of Ocean Science for Sustainable Development, the program "OLWA-Ocean Literacy With All" and its "Scientists for Ocean Literacy" project.
For more information about the UN Decade and OLWA please visit:
UN Decade of Ocean Science for Sustainable Development