World Ocean Day (8th June) | 20 Days to Lisbon: Ocean Literacy in Action! (online and on-site)
8 Jun 2022 @ 2:30pm - 7:40pm, Venice, Italy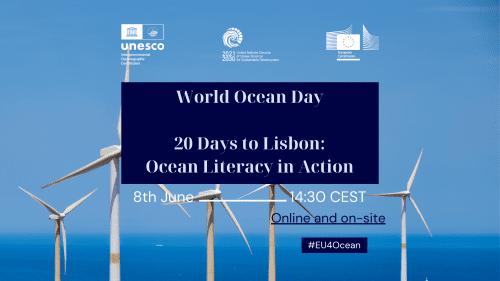 20 Days to Lisbon: Ocean Literacy in Action
To celebrate World Oceans Day on the occasion of the 8th of June 2022, the Intergovernmental Oceanographic Commission of UNESCO (IOC-UNESCO) and the European Commission invite you all to join the event, organised within the EU4Ocean framework and as an officially endorsed UN Decade of Ocean Science for Sustainable Development (2021-2030) activity.
🕑 When: Wednesday 8th of June, from 14:30h – 16:00h (CEST)
📍Where: Zoom (with one hybrid session in Venice)
–> Zoom. The link will be made available to all participants registered via Eventbrite soon.
–-> On-Site Italy, Venice: Hotel Ca' Di Dio, VRetreats.
➡️ Register now! https://www.eventbrite.pt/e/8th-june-world-ocean-day-20-days-to-lisbon-ocean-literacy-in-action-tickets-349460284117
The World Oceans Day event will feature three different sessions:
1️⃣ Launch of the Ocean&Climate Village catalogue
🕑 14.30 pm to 15.00 pm CEST
From 14.30 pm to 15.00 pm CEST we will open with the launch of the Ocean&Climate Village catalogue, the first travelling exhibition dedicated to ocean and climate nexus, to make cities a place of learning about the sea with the aim to foster Generation Ocean.
The Ocean&Climate Village catalogue makes the experience of the exhibition live beyond its temporariness and will allow you to dive the wonder of our global ocean.
The launching event features several speakers who lent their words and voices to introduce the scientific, social, and economic facets related to the ocean-climate nexus, and who shared their experiences and their close relationships with the ocean, acting as spokespeople for Generation Ocean:
Francesca Santoro, programme specialist at IOC-UNESCO
Kerstin Forsberg, marine biologist and founder of Planeta Oceano
Patricia Furtado de Mendonça, founder of ACQUA MATER
Esteban Gottfried Burguett, IOC-UNESCO intern and member of Design for the Ocean network
2️⃣ EU4Ocean Webinar "Current status and future outlook for marine renewables"
🕑 15.00 pm to 16.00 pm CEST
From 15.00 to 16.00 pm, there will be the webinar "Current status and future outlook for marine renewables" moderated by Francesca Santoro. The webinar will focus the discussion on how Ocean Literacy is connected to Blue Energy, to foster the transition toward a sustainable Blue Economy. The webinar features:
Gianmaria Sannino, Chair of the Implementation Working Group "Ocean Energy " for the European Commission Strategic Energy Technological Plan and Head of the Climate Modelling Laboratory and Impacts
Davide Villa, Chief Customer Officer, and Board Member E.ON
Giuseppe Giorgi, Researcher at the Politecnico di Torino
Andy Kontoudakis, European Commission (EU4Ocean coalition)
Silja Teege, Sea Teach/ BlueGeneration Project (EU4Ocean coalition)
3️⃣ Aperitivo Blu
🕑 18:30 pm to 19:40 pm (CEST)
Language: Italian. | Modality: On-site with streaming via Youtube.
The World Ocean Day Event closes with the Aperitivo Blu – a chat about the ocean. We will have the pleasure to have Marta Musso, marine biologist and winner of the Award Donna di Mare 2022, who will be interviewed by the actress Diana Del Bufalo. This event will be hybrid: in presence at the Hotel Ca' di Dio, VRetreats and will be streamed online.
Note: The on-site event had 20 seats available, only participants registered via Eventbrite will be able to participate.
➡️ Register now! https://www.eventbrite.pt/e/8th-june-world-ocean-day-20-days-to-lisbon-ocean-literacy-in-action-tickets-349460284117