PANERAI and IOC-UNESCO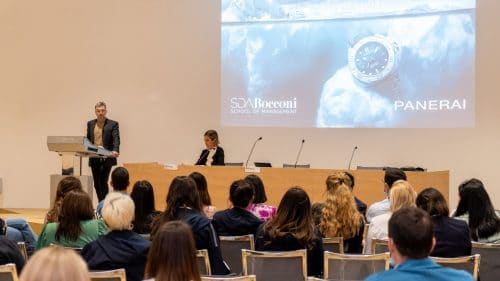 PANERAI and IOC-UNESCO
Water covers about 71% of the planet's surface, and the ocean holds roughly 97% of all Earth's water. Though the ocean is powerful and immense, it is also vulnerable to a multitude of environmental threats and pressures. To date, over 40% of the ocean's surface is strongly affected by multiple drivers, and 66% is estimated to be experiencing increasing cumulative impacts mainly from land- and human-based sources. 
Panerai is displaying how a luxury brand can be a force for good for ocean's and planet's health through an effective sustainability strategy simply by involving as many people as possible in concrete actions.
Panerai and the Intergovernmental Oceanographic Commission of UNESCO (IOC-UNESCO) have been collaborating for over two years now to develop an Ocean Literacy program that promotes science-based management of the ocean and marine resources as part of the framework of the United Nations Decade of Ocean Sciences for Sustainable Development (2021-2030).
This Ocean Literacy program ensures that institutions, citizens and stakeholders understand their bilateral connection with the ocean, embracing a more responsible mindset and behavior towards the ocean and its preservation, and applying this knowledge to develop transformative solutions toward building a more sustainable, equitable society, moving from the ocean we have to the ocean we want.
The Ocean Literacy initiative includes three science-based main actions, which are education, citizen science and industry involvement. These activities will aim at a global educational and awareness-raising programme to empower diverse stakeholders to become agents of change and ocean stewards.
Education:
Panerai has launched "Panerai Ocean Conservation Initiative", a worldwide program to sensitize and educate thousands of students on the importance of the ocean and its direct commitment to it. This educational program is mainly targeted to the active involvement of Generation Z (generation of those born between 1997 and 2012). 
One hundred universities in the world have been selected to present the project and involve young generations into concrete actions. The lectures will be held by a Panerai representative, regarding "Sustainability at Panerai" including Ocean literacy.
The goal is to explain to students how a luxury brand like Panerai can be a concrete actor against climate change and ocean pollution as well as stimulate students to think about the ocean in a different way but mainly to become active agents of change. This is the essence of ocean literacy: transforming ocean knowledge into action.
In addition, students and professors will have the possibility to participate in a plastic collection day organized in each country by the brand to actively contribute to the environmental health of the place where they live, but also to sensibilize on the plastic pollution issue. The selected degree courses are Sustainability, Marketing & Business, Marine Science, Engineering and Biology.
Citizen science:
Panerai further promotes citizen science activities, as active participation of private citizens in marine citizen science, enabling communities to engage with the ocean, and inform themselves about issues including marine species redistributions, seafood harvesting, marine plastic pollution, cetacean conservation and marine environmental planning, among others. 
Industry involvement:
Panerai wants to highlight the need to get the private sector on board. There's a strong necessity of encouraging more industries to follow Panerai's example and its sustainability program. Panerai summarizes its sustainability program with 5Ps:
Performance in real estate, through high standards buildings aimed to reduce carbon dioxide emissions, promoting recycling and the use of renewable resources.
Processes: processes mean sourcing, and sourcing is the aspect that mostly affects the output of a company. So, responsible sourcing is a key driver towards a safer planet. Furthermore, the company provides an open access platform containing the database of all the suppliers of these materials, available for those companies that want to follow its virtuous example.
Products very much advanced in terms of innovative materials, Panerai is the first luxury brand to use on large scale the "eSteel", stainless steel recycled up to 95%
People are the key actors for sustainable development. Indeed, Panerai's initiative with IMIBALA aims to make education available for poor students. Other initiatives such as "Plastic collection days" and "Do it together" encourage the active involvement of the employees and their families, scaling up to reach a wider public.
Partnerships are the essential tools used for genuine and effective collaborations. Partnerships like the one with IOC-UNESCO allow to reach the general public, customers, employees and such. Other partners, like the one with Razer, are also very active in the field of sustainability and public involvement through gaming.
To conclude, Panerai provides a virtuous example for private companies in the field of luxury goods that collaborates with IOC-UNESCO for making people more aware of the importance of the ocean and the urgent need of changing our habits, as well as our purchase choices, in order to pursue a sustainable future for us and for next generations.
To take an active role in the field of Ocean Literacy, do not hesitate to enter the Ocean Literacy portal, where you can get in touch with experts, organize or join events and campaigns and even publish articles for open access education. 
Each of us can contribute for the common well-being of the planet and humanity: in our society as in our ocean, every drop counts.