Public-private partnerships for ocean literacy | # COP27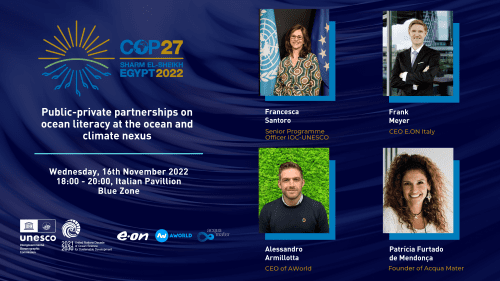 When: Wednesday, 16th November 2022 | 18:00 to 20:00
Where: COP27 Italian Pavilion, Blue Zone
# COP27 (the United Nations Conference on Climate Change) is currently taking place in Sharm el-Sheikh, Egypt. The conference runs until November 18th and brings world leaders to discuss the climate crisis urgency.
On 16th November from 6 to 8 pm at the Italian Pavillion in the Blue Zone the event "Public-private partnerships on ocean literacy at the ocean and climate nexus" will take place. The event will feature, Francesca Santoro, Senior Programme Officer IOC-UNESCO for Ocean Literacy, Frank Meyer, CEO of E.ON Italy, Alessandro Armillotta, CEO of AWorld, and Patricia Furtado, founder of Acqua Mater. The event will showcase the partnerships established between IOC-UNESCO and the private sector to advance ocean literacy globally. 
If you are in Sharm El-Sheikh we really hope to see you there!