Ocean Literacy for the Finance Sector Webinar Series Module 2 – Ocean data & risk management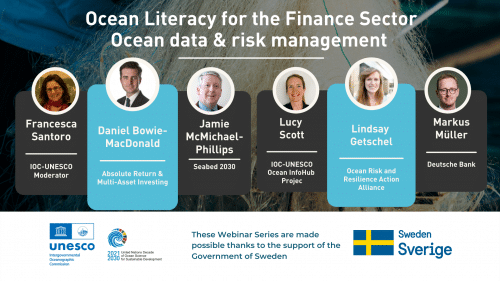 Calling all Finance Sector professionals! The ocean is constantly interacting with all sectors of the economy with physical, political, economic, and financial implications across the globe.
This 2nd module will showcase examples of how ocean data can support better risk management. This Module will be moderated by Dr. Francesca Santoro, Programme Specialist from IOC-UNESCO, and will showcase the work of the following speakers:
Daniel Bowie-MacDonald, Absolute Return & Multi-Asset Investing
Jamie McMichael-Phillips, Project Director Seabed 2030
Lucy Scott, IOC-UNESCO
Insurance risk management – Lindsay Getschel, ORRAA Ocean Risk and Resilience Action Alliance
Markus Müller, Managing Director I Global Head of Chief Investment Office Deutsche Bank – Private Bank
This project was made possible due to the support of the Government of Sweden.