Ocean Literacy for the Finance Sector Webinar Series Module 3 – Blue Finance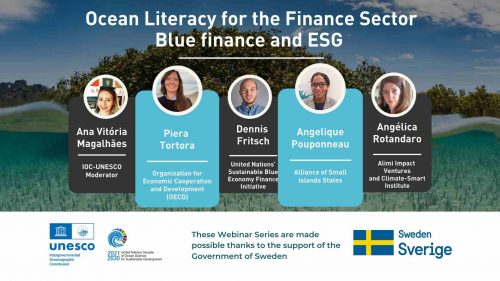 Calling all Finance Sector professionals! The ocean is constantly interacting with all sectors of the economy with physical, political, economic, and financial implications across the globe.
This 3rd module will showcase examples of Blue Finance. This Module is moderated by Ana Vitória Tereza, Ocean Literacy Consultant from IOC-UNESCO, and will showcase the work of the following speakers:
Piera Tortora, Coordinator of Sustainable Ocean for All Initiative, OECD
Dennis Fritsch, Sustainable Blue Finance Lead, UNEP Finance Initiative
Angelique Pouponneau, Ocean and Climate Advisor & PhD candidate
Angélica Rotondaro, Alimi Impact Ventures, a board member of the Climate-Smart Institute
This project was made possible due to the support of the Government of Sweden.
Watch the other modules clicking on the links below:
Module 1:
Part 1:
Ocean Literacy for the Finance Sector Webinar Series Module 1 – Introduction to Ocean Literacy
Part 2:
Ocean Literacy for the Finance Sector Webinar Series Module 1 – Public Benefits of the Ocean
Module 2:
Ocean Literacy for the Finance Sector Webinar Series Module 2 – Ocean data & risk management
After watching all Webinars take the Assessment Questionnaire, so you can check your understanding:
https://docs.google.com/forms/d/e/1FAIpQLScZWJk5OH6YIGDdwca0T9do5jLKv3qDFcfmeIKXnuPfvHzfpw/viewform