The Young Person's Guide to the Mediterranean Action Plan and the Barcelona Convention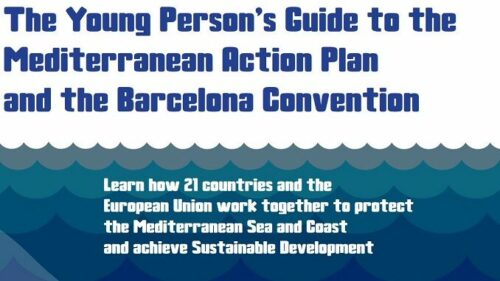 The Mediterranean Action Plan of the UN Environment Programme (UNEP/MAP) has released the Young Person's Guide to the Mediterranean Action Plan and the Barcelona Convention aimed at ocean literacy practitioners, educators and young readers aged 11-17.
This resource was produced under the supervision of Tatjana Hema, the UNEP/MAP Coordinator, by Jihed Ghannem, UNEP/MAP Public Information Officer, and Anastasia Vergiris, UNEP/MAP Information Assistant, with contributions from members of the MAP Coordinating Unit and the MAP Regional Activity Centres whose expertise and insights helped shape this communication product.
The Guide offers a simplified introduction to the legal framework that UNEP/MAP and the Contracting Parties to the Barcelona Convention have established and gradually upgraded, covering a wide range of themes pertaining to the Mediterranean marine and coastal environment as well as sustainable development.
For the younger readers, the assistance of educators or tutors may be advisable to overcome the inherent complexity of some of the issues that the Barcelona Convention and its Protocols address. Readers situated in the upper part of the target audience's age range, who will typically be senior school students, should be able to navigate the publication relying on their own research abilities.
UNEP/MAP offers the Guide as a free resource that educators working with youth around the Mediterranean basin can use as a basis for extra-curricular activities. Students engaging in debate activities and Model United Nations (MUN) simulations will find the Guide helpful as it will equip them with essential understanding of the Mediterranean region's principal Multilateral Environmental Agreement.
The product may also be used as an induction to more advanced material, including the course on the Barcelona Convention offered by InforMEA, which will further enrich the young learners' knowledge.
Educators, partners and civil society organizations at large are invited to promote the Young Person's Guide to the Mediterranean Action Plan and the Barcelona Convention on their own digital platforms, and to disseminate it within their networks in line with the copyright notice (page 2). The web version of the Guide can be downloaded and/or disseminated through this permanent web address: https://bit.ly/YPG-MAP-BC
For more information, contact Jihed Ghannem, Public Information Officer, UNEP/MAP