Discover the Youth4Ocean Forum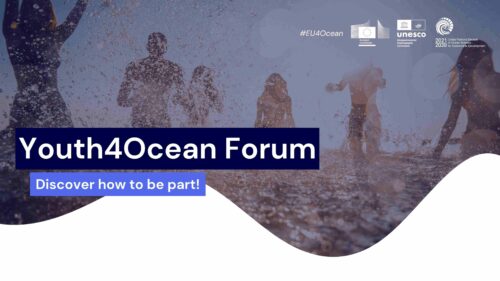 The Youth4Ocean Forum is a free platform for young ocean changemakers. By delivering and building capacity for the development of Ocean Literacy in Europe as part of the EU4Ocean Coalition, our common goal is to shape our future with a healthy ocean that sustains us all. We gather 16-30 year-olds across 36 countries in Europe and around the world!
The Youth4Ocean Forum provides members with the opportunities to speak up for their generation, share ideas, present their projects and connect with like-minded young people and experts all over Europe. 
One the main purpose of the Youth4Ocean Forum is to empower its members to help them to develop their potential as ocean advocates: learning from pairs, learning by doing while participating in the Forum actions, dialogue with experts during our Meet a Blue Experts, benefiting from an ocean advocates toolkit, developing their networks, and participating in trainings…  
Advocacy for the Ocean and the Youth, the Youth4Ocean Forum facilitates the participation of Young people during international ocean conferences by helping the youth to get accreditations, participate as speakers on an equal level  and even organise our own side-events.
Finally, the Youth4Ocean Forum helps to put community members' actions in the spotlight by promoting them on social media and on the Maritime Forum of the European Commission, as well as creating opportunities for young project leaders to network with and pitch their project to different maritime stakeholders.
Why should I become a member?
You are welcome to view the information and resources on the Youth4Ocean Forum without logging in. If you would like to add content, resources or events, share your ideas or exchange with other members in the discussion forum, you need to create your EU Login and become a member of our online community. We are looking forward to getting you onboard! Registration for our online community is open to everyone and free. Detailed information on how to register can be found below.
The Young Ocean Advocate programme
You carry out ocean educational or conservation activities, or have an arts project or an entrepreneurial business case in mind that has the potential to change things for the ocean in your area and you are looking for a more active engagement with the Youth4Ocean Forum or EU4Ocean experts. Then you can submit your project and get accredited as EU Young Ocean Advocate.
There are many benefits coming from taking part in the Young Ocean Advocate programme, including:
Obtaining an official certificate of Young Ocean Advocate recognised by the European Commission;
Being able to receive support and guidance to carry out your activities and accessing to the coaching and mentoring services provided by the EU4Ocean Coalition to advance your project and improve your skills;
Attending events and network with leading experts, likeminded young people and professionals from all over Europe;
Getting access to tools and networks to promote ocean literacy in Europe and further develop their own actions ;
Visibility: your project and personal profile will be showcased in the Youth4Ocean Forum section on the Maritime Forum website of the European Commission, and promoted on social media by the EU4Ocean Coalition;
The possibility to participate in international high-level conferences and events, where you will get the chance to pitch your project during workshops, side events, and networking with peers and other projects, and professionals in your field of interest.
Applications are now open*/closed, check out the latest Call for Young Ocean Advocates here!
You can visit the Maritime Forum's dedicated webpage to check if you fulfil the application criteria and for more information about this programme.
*n.b. The Call will be open from 19th June until 31st July. We will send all relevant visuals and links to the Call as soon as the project Communication Partner and website manager set them up.