Ocean Literacy Training Courses
The Ocean Literacy training courses are developed by IOC-UNESCO, specifically targeting educators, media and government officials. The training courses are hosted on IOC-UNESCO's training platform, the OceanTeacher Global Academy.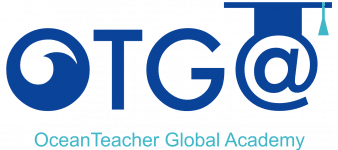 The courses include lectures, case-studies, video messages from guest speakers, activities, quizzes, and online forums, as well as recorded webinars.

What will I learn?
What is Ocean Literacy.
The Ocean Literacy Principles.
The UN Decade of Ocean Science for Sustainable Development and the role of Ocean Literacy in the Decade.
Brief introduction to the SDGs, SDG 14 and its connection to other SDGs and Ocean Literacy.
How to adapt Ocean Literacy to your sector or context.
FAQs
Who should take the training courses?
The Ocean Literacy training courses target four distinct groups: Educators, Media Professionals, Government officials and the Civil Society. The course contents are tailored according to the main needs of the four specific groups. If you belong to one of those groups, please click on the icon corresponding to them and enroll to follow the course.
How do I access the course contents?
The Ocean Literacy training courses are available through the OceanTeacher Global Academy e-Learning Platform of IOC. In order to follow any course(s) you need to create an account on OceanTeacher.
When I finish the training will I receive a certificate?
No, certificates are not provided to the self-paced courses.
Are there any costs to follow the course(s)?
No, the courses are provided for free.
What is the language of the training course(s)?
This first edition of the 4 courses will be held in English. 
If you still have any doubt about the Ocean Literacy Training, please email oceanliteracy@unesco.org