Climate Tech Entrepreneur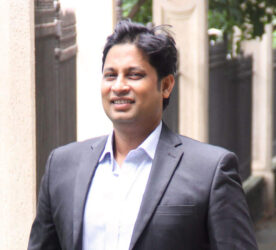 Saurabh Gupta
Raheja Vihar, Chandivali, Raheja Vihar
400072 - Maharashtra | India
saurabhguptaearth5r@gmail.com
Climate Tech Entrepreneur
- Blue Economy
- Climate Change
- Marine Biology
- Marine Geology
- Marine policy
- Ocean Exploration
- Ocean plastics
- Ocean Science Education
- Stakeholder Engagement
Indian Ocean, Bay of Bengal, Arabian Sea
Description
I am a climate tech entrepreneur and an environmentalist. Im the founder of Earth5R, a global environmental organisation that creates impacts through community-led actions. Driven by 100,000 citizen scientists globally, we have a presence in 140 countries.

Earth5R has been endorsed by the French President Mr Emmanuel Macron and 2015 Nobel Peace Prize Laureate Ouided Bouchamaoui.

Earth5R has been honoured as a UNESCO Green Citizens project and one of the top 100 environmental programs globally.

Earth5R was selected for the Paris Peace Forum where we got the opportunity to present the project to 70 heads of the nation. Networking with global leaders has helped us to kickstart our projects in several countries around the globe.
Earth5R is committed to reducing plastic pollution in the oceans. Our efforts include organizing community-based plastic waste collection drives, promoting upcycling of plastic waste into useful products, conducting awareness campaigns to educate people about the harmful effects of plastic pollution, and developing innovative solutions. By engaging communities, educating individuals, and implementing sustainable solutions, Earth5R is working towards a cleaner and more sustainable future for our planet.
At Earth5R we believe that the most powerful tool ever made by humanity is in your hands- the Mobile phone. Earth5R app empowers you to leverage the power of your mobile phone for social good. Through our app, you can take charge of your surroundings, participate in local initiatives, share your knowledge on sustainable practices, and learn from others. This app is a testament to the power of technology in bringing about positive change in our society.
Please visit https://earth5r.org to know more.