Ocean Literacy: The Essential Principles and Fundamental Concepts of Ocean Sciences for Learners of All Ages (2020)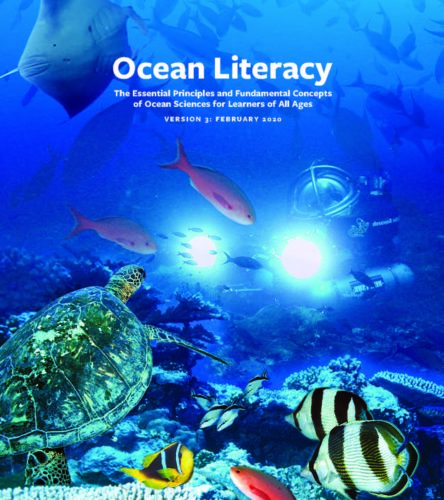 The Ocean Literacy Guide describes the 7 most important ideas, or Essential Principles, about the ocean that all people of our water planet should have the opportunity to learn and understand. The Essential Principles and supporting Fundamental Concepts were developed through a community-wide consensus-building process. This effort built on previous work to define ocean literacy, assess what the public knows about the ocean, and redress the lack of ocean-related content in U.S. science education standards, instructional materials, and assessments.
The Essential Principles and Fundamental Concepts represent content that does not fall neatly within traditional science disciplines, but rather supports a focus on integrated science. Many Fundamental Concepts illustrate more than one Essential Principle. For example, Principle 4 lists only three Fundamental Concepts, however, several others from other Essential Principles could be listed, as well. This demonstrates the interdisciplinary nature of ocean sciences.  It provides a vision for a coherent progression of learning about the ocean from the earliest grades up through integrated science courses at middle and high school, and even into college.
Version 3 was published in February 2020 and replaces Version 2 published in March 2013.