Sustainable Development Goal 14: Life Below Water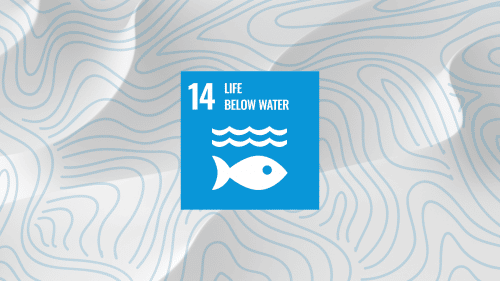 Sustainable Development Goal 14: Life Below Water
Authors: Esteban Gottfried Burguett, Andreas Mittermayr, Valentina Lovat – IOC-UNESCO
SDG 14 is the only globally agreed roadmap for the conservation and sustainable management of marine resources. Its faithful implementation is, therefore, our best hope for remedying the ocean's challenges. The United Nation's sustainability goal is a call for action to citizens and governments on the entire planet. Experts agree that ten goals can bring the relationship between the Ocean and humans back into equilibrium.
"Live Below Water" is a key target area of the United Nation's sustainability goals on a global scale. Civil actors across our planet are coming together to find new ways of mobilising action for the conservation, protection and sustainable use of the ocean. 
All the SDGs are strictly linked with one another, as stated by the UN Secretary-General during the opening of the UN Ocean Conference in Lisbon (2022) «our failure to care for the ocean will have ripple effects across the entire Agenda 2030 ».
The impact of SDG14 is not limited to life below water. Much rather, it is relevant to the functioning of all faculties of human culture and economy. This is why finding modes of implementing all of the ten targets for life below water is so critical to maintaining the entire spectrum of human lives and cultures.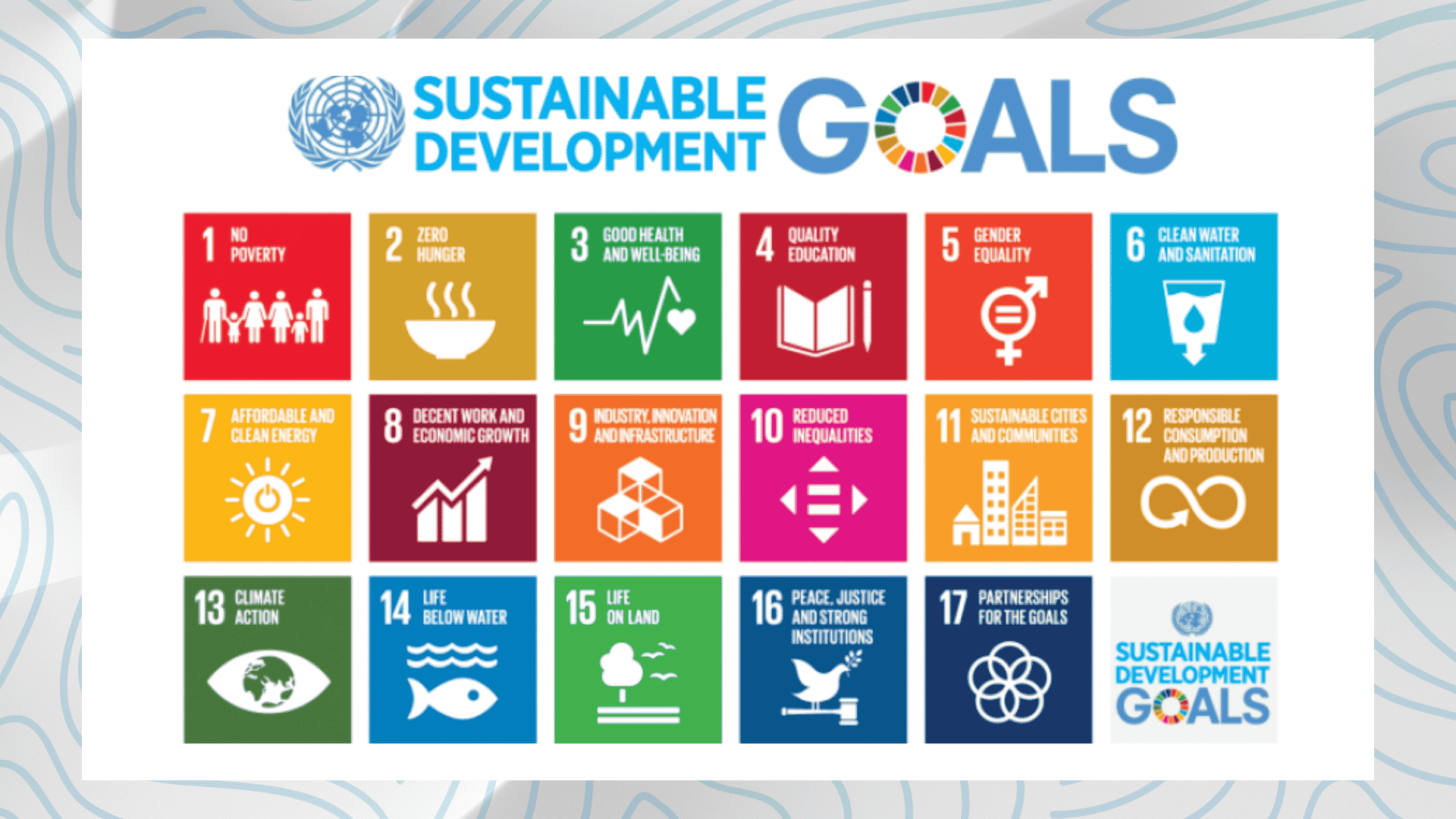 Why a goal entirely dedicated to the ocean?
We have already written about the importance of the ocean in regulating the natural cycles. However, it is never enough recalling the wonders and the challenges the ocean is facing nowadays. Since the advent of modern civilization, the ocean has been treated as a space free of regulation or consequence. An unprecedented scale of overfishing and  the use of destructive ways of doing so, as done by trawlers, have amplified the stress on marine life forms. 
Ocean warming and the increase of greenhouse gas emissions are leading to an unprecedented ocean acidification that has been leading to an ecological collapse. Furthermore, the inflow of plant nutrients, mainly due to outdated production practices in industrial agriculture, have been fuelling the eutrophication of marine ecosystems. Collectively, all of these and many other inputs are called multiple stressors. Each of these stressors can individually have many adverse effects on marine life, which is highly dependent on the intensity and duration of stress. However, stressors rarely occur in isolation. Marine life at any location encounters a unique combination of stressors. These practices have brought forth a series of problems that require determined, collective and immediate action.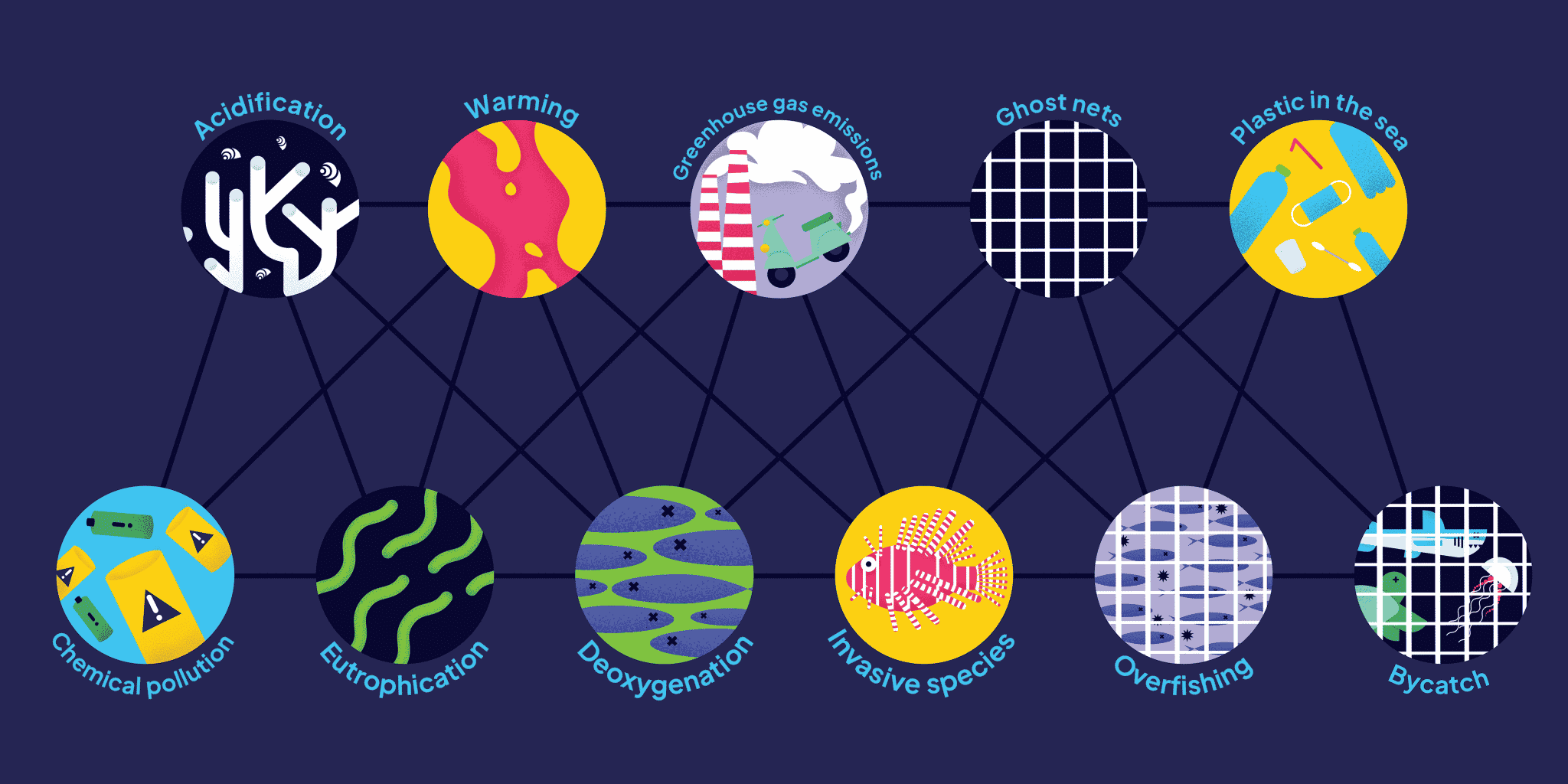 We can have a role, as a society, to turn the tide 
In 2015, the member states of the United Nations formulated the 2030 Agenda, constituted by 17 goals for sustainable development, which touch upon all areas of daily human life. Driving concrete change for a more sustainable relationship between humans and nature is unthinkable without considering the ocean – which covers more than two-thirds of the surface of the blue planet. Sustainable Development Goal 14 (SDG14) addresses the key challenges of ocean health and suggests tangible ways of addressing these.
The key forum for amplifying the demands of SDG14 are the UN Ocean Conferences. The first convening took place in New York in 2017, and proved to be a vital point of interconnection between heads of State and Government, civil society representatives, business leaders, stakeholders, academics, scientists and ocean and marine life advocates. The momentum generated in 2017 was used  to address many of the deep-rooted problems of our societies' relation with the ocean. Stepping up action on common shared solutions that are anchored in the SDGs requires global and transdisciplinary cooperation. To mobilise the action the ocean needs, the Conferences seek to propel much needed science-based innovative solutions aimed at starting a new chapter of global ocean action
The ten targets of the SDG14
Scientists, activists and policy-makers have been thinking about how to achieve the goals formulated within the framework of the SDG14. They have developed ten targets and ten indicators that highlight the necessity to work and improve in the following areas: marine pollution, conservation through marine protected areas, ocean acidification, regulation of fishery practices, and increased research to foster scientific knowledge and awareness, which would allow life to continue thriving above and below water.
As already mentioned above, the targets and indicators are cyclically assessed and discussed during international meetings, symposiums and global UN Ocean Conferences. You can find all the details related to SDG14 in its dedicated international website.
Target 14.1 By 2025, prevent and significantly reduce marine pollution of all kinds, in particular from land-based activities, including marine debris and nutrient pollution 
Indicator 14.1 is the "Index of coastal eutrophication and floating plastic debris density
Target 14.2 By 2020, sustainably manage and protect marine and coastal ecosystems to avoid significant adverse impacts, including by strengthening their resilience, and take action for their restoration in order to achieve healthy and productive oceans     
Indicator 14.2.1 is "the proportion of national exclusive economic zones managed using ecosystem-based approaches
Target 14.3 Minimize and address the impacts of ocean acidification, including through enhanced scientific cooperation at all levels
Indicator 14.3.1 is the "Average marine acidity (pH) measured at agreed suite of representative sampling stations
Target 14.4 By 2020, effectively regulate harvesting and end overfishing, illegal, unreported and unregulated fishing and destructive fishing practices and implement science-based management plans, in order to restore fish stocks in the shortest time feasible, at least to levels that can produce maximum sustainable yield as determined by their biological characteristics    
Indicator 14.4.1 is "the proportion of fish stocks within biologically sustainable levels
Target 14.5 By 2020, conserve at least 10 percent of coastal and marine areas, consistent with national and international law and based on the best available scientific information
Indicator 14.5.1 is the "coverage of protected areas in relation to marine areas
Target 14.6 By 2020, prohibit certain forms of fisheries subsidies, which contribute to overcapacity and overfishing, eliminate subsidies that contribute to illegal, unreported and unregulated fishing and refrain from introducing new such subsidies, recognizing that appropriate and effective special and differential treatment for developing and least developed countries should be an integral part of the World Trade Organization fisheries subsidies negotiation
Indicator 14.6.1 is the "progress by countries in the degree of implementation of international instruments aiming to combat illegal, unreported and unregulated fishing"
Target 14.7 By 2030, increase the economic benefits to Small Island developing States and least developed countries from the sustainable use of marine resources, including through sustainable management of fisheries, aquaculture and tourism
Indicator 14.7.1 is the "sustainable fisheries as a proportion of GDP"
Target 14.A Increase scientific knowledge, develop research capacity and transfer marine technology, taking into account the Intergovernmental Oceanographic Commission Criteria and Guidelines on the Transfer of Marine Technology, in order to improve ocean health and to enhance the contribution of marine biodiversity to the development of developing countries, in particular small island developing States and least developed countries
Indicator 14.A.1 is the "proportion of total research budget allocated to research in the field of marine technology"
Target 14.B Provide access for small-scale artisanal fishers to marine resources and markets
Indicator 14.B.1 is the "progress by countries in the degree of application of a legal/regulatory/policy/institutional framework which recognizes and protects access rights for small-scale fisheries"
Target 14.C Enhance the conservation and sustainable use of oceans and their resources by implementing international law as reflected in UNCLOS, which provides the legal framework for the conservation and sustainable use of oceans and their resources, as recalled in paragraph 158 of The Future We Want
Indicator 14.C.1 is the "number of countries making progress in ratifying, accepting and implementing through legal, policy and institutional frameworks, ocean-related instruments that implement international law, as reflected in the United Nations Convention on the Law of the Sea"
A Sustainable Ocean in the interest of Humanity
Achieving the targets and indicators of the SDG14 is relevant not only for the ocean and the marine environment, but is a key enabler for achieving all the other SDGs part of the 2030 Agenda.