Ocean Literacy Dialogues
4 Nov 2023 @ 9:00am - 5 Nov 2023 @ 6:00pm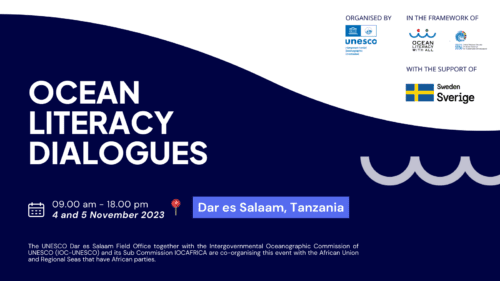 Save the date for the next edition of the #OceanLiteracyDialogues!
The UNESCO Dar es Salaam Field Office together with the Intergovernmental Oceanographic Commission of UNESCO (IOC-UNESCO) and its Sub Commission IOCAFRICA co-organized this event with the African Union and Regional Seas that have African parties
The event will take place from 4-5 November in Tanzania back-to-back with the Marine Regions Forum and with a joint session with the MSP Forum
#OceanLiteracyDialogues are a set of open and participative events designed to engage all sectors of society in meaningful conversations about the ocean. 🐚🐠
Do you want to know more? Stay tuned to our channel and save the date for our event!
https://www.oceanliteracydialogues.com/ 
#oceanliteracy #africa #oceandecade #OLWA #oceanliteracywithall
This event is supported by the Government of Sweden 🇸🇪