EMSEA Conference
25 Sep 2022 @ 4:00pm - 28 Sep 2022 @ 8:00pm, Palma Aquarium, Carrer de Manuela de los Herreros, Palma, Spain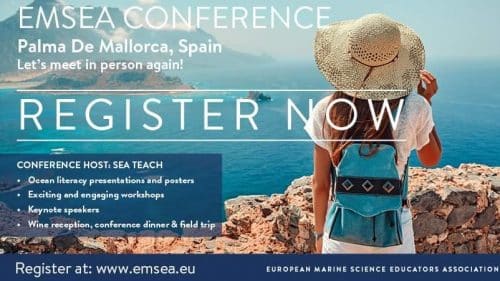 EMSEA's annual conference is finally taking place. Here the marine education community dives deeper into the latest developments in the field of ocean literacy. Taking place on the 25th-28th of September 2022 in the sunny city of Palma de Mallorca, we come together again in person to exchange knowledge, expertise and facilitate discussions. By joining, you will be immersing yourself in the vibrant and fun EMSEA atmosphere of learning, networking, and collaboration.
We welcome keynote speakers, our members and all new to this conference to present their work on the following topics:
Blue education (both formal and informal)
Careers and jobs in the blue economy
Ocean technology and education
Ocean conservation
(more on these topics in the abstract section)
The conference is open to all, no abstract is needed to attend.
At the conference, you will also have the opportunity to take part in workshops, field trips and social events.
Abstract submission: https://docs.google.com/forms/d/e/1FAIpQLSc3ud-rXBJdpeM9LS5fyGJU5XraIitQXY2X4I4viqzVvZVAcQ/viewform?usp=send_form
Registration: https://emsea.glueup.com/event/emsea-conference-mallorca-59232/tickets.html