Ocean Literacy for the Finance Sector Webinar Series Module 1 – Introduction to Ocean Literacy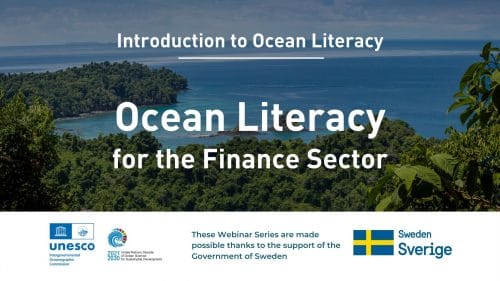 Calling all Finance Sector professionals! The ocean is constantly interacting with all sectors of the economy with physical, political, economic, and financial implications across the globe.
This introductory module will present what is Ocean Literacy and the connection the ocean has with the Finance Sector. This Module will be presented by Dr. Francesca Santoro, Ocean Literacy Programme Specialist IOC-UNESCO.
Watch part 2  of this Module here:
Ocean Literacy for the Finance Sector Webinar Series Module 1 – Public Benefits of the Ocean
This project was made possible due to the support of the Government of Sweden 
#OceanLiteracy #FinanceSector #WebinarSeries #Unesco